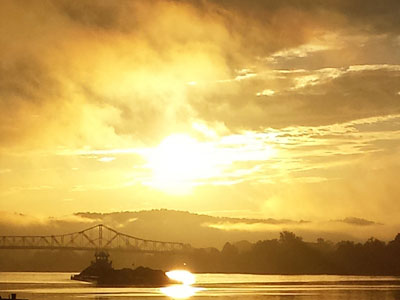 The Kanawha River is a tributary of the Ohio River. The river begins at the confluence of the New and Gauley rivers. The Kanawha flows approximately 97 miles before joining the Ohio River at Point Pleasant, West Virginia.
Navigation on the Kanawha River is controlled by a system of locks and gates that are maintained by the U.S. Army Corps of Engineers. From the confluence to Charleston, the river is flanked by the Midland Trail National Scenic Byway (Rt. 60).
Kanawha River fish species include smallmouth bass, musky, walleye, sauger, channel catfish, flathead catfish, sunfish, suckers, and others.
Near Glenn Ferris, Kanawha Falls is one of the most popular locations in West Virginia for catching walleye during their early spring spawning runs. Kanawha Falls Public Fishing Area provides access for fishing and other recreation.
A few miles downriver, the area near Loop Creek contains a variety of fishing attracting habitat including the creek outflow, rocky outcrops, shallow riffles, and a railroad bridge.
In Montgomery, a city-owned facility under the Rt. 61 bridge includes boat launching ramps and parking.
Related Information