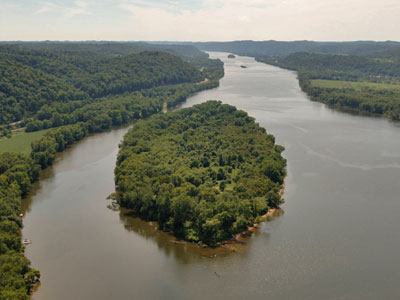 The Ohio River begins at the confluence of the Allegheny and Monongahela rivers in Pittsburgh, Pennsylvania.
Ohio River fish species include striped bass, hybrid striped bass, white bass, largemouth bass, musky, walleye, sauger, channel catfish, flathead catfish, sunfish, suckers, and others.
In the late 1700's Thomas Jefferson described the river in his Notes on the State of Virginia as: "The Ohio is the most beautiful river on earth. Its current gentle, waters clear, and bosom smooth and unbroken by rocks and rapids, a single instance only excepted."
Unfortunately, decades of pollution have resulted in fish consumption advisories for many Ohio River fish.
One of the Ohio River's best known tributaries is the Kanawha River.
Related Information