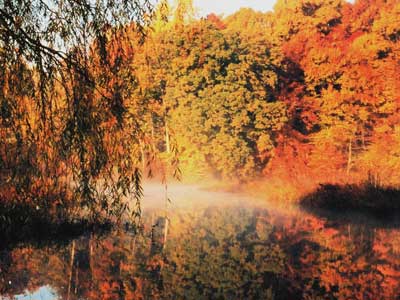 The Patuxent River is one of three main river systems that drain central Maryland. The river originates near the intersection of Howard, Frederick, Montgomery and Carroll counties, over 100 miles from its discharge into the Chesapeake Bay. In 1968, the river was designated one of Maryland's scenic rivers.
Upper Patuxent River
The upper reaches of the river flow through Patuxent River State Park. Located at the southern end of the park is Triadelphia Reservoir and Brighton Dam. Several miles downstream, the river is again impounded to form Rocky Gorge Reservoir. Exiting the T. Howard Duckett Dam, the river flows to Laurel, Patuxent National Wildlife Research Refuge and onto Bowie.
Tidal Patuxent River
The tidal Patuxent River extends from Bowie, downriver for approximately 50 miles before converging with the Chesapeake Bay near Solomon's Island, Md. Located near Upper Marboro, Jug Bay Natural Area occupies approximately 2,000 acres along the tidal Patuxent.
The facility is the headquarters for the Patuxent River Park, part of the Chesapeake Bay National Estuarine Research Reserve, and part of the Chesapeake Bay Gateways Network. Jug Bay has boat ramps, hunting areas, kayaking water trails, and other attractions.
Another popular access point along the tidal Patuxent is King's Landing Park. The park has kayaking launching areas, a fishing pier, and access to the river and nearby creeks. The park is managed by Calvert County.
Located near the mouth of the Patuxent, Greenwell State Park (596 acres) includes "Pepper" Langley Fishing Pier. The pier is a popular destination for crabbing and fishing.
Related Information