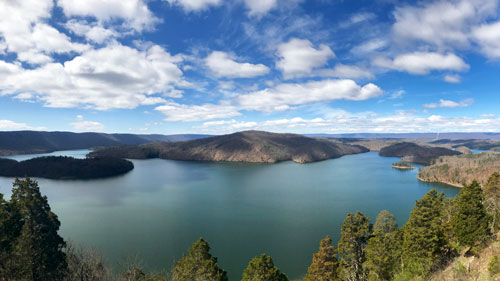 Raystown Lake is one of the most popular destinations for freshwater fishing in Pennsylvania. The lake was constructed by the US Army Corps of Engineers over a period of 10 years. The project was completed in 1978 at a cost of $76 million.
Primarily constructed for flood control, the lake also provides habitat for fish and wildlife, hydropower, river flow enhancement, and a variety of recreational opportunities. The lake is now a Federal Park which attracts approximately 1.5 million visitors per year.
Raystown Lake is approximately 28 miles in length with a wide range of geographical features. Along points and outcroppings, depths can be quite shallow. Much of the lake is deep, reaching 65 feet or more just off shore. The deepest part of the lake occurs at the northernmost section, where depths can exceed 200 feet.
The Corps operates and maintains 12 public access areas on Raystown Lake. Facilities include beaches, boat launches, campgrounds, trails, and hunting and fishing. Four concession facilities exist on Raystown; Lake Raystown Resort, Seven Points Marina, Branch Camp, and The Lighthouse.
The Pennsylvania Game Commission manages Raystown Lake fish populations and is responsible for enforcement of state fishing, game and boating laws on the waterway.
Raystown is nationally recognized for its outstanding fishing for landlocked striped bass. Occasionally exceeding 50 pounds, these top level predators dominate the waterway, preying on gizzard shad, alewife, and other forage species.
During the early morning or late day, anglers on the lake sometimes encounter trophy-class striped bass working schools of baitfish to the surface. Raystown striped bass are caught by live bait fishing, casting, trolling, and vertical jigging.
In addition to striped bass fishing, the lake sustains populations of largemouth bass, smallmouth bass, walleye, lake trout, bluegill, musky, and other species of freshwater fish.
Related Information
Pennsylvania Freshwater Fishing