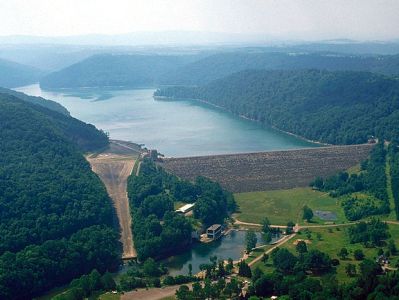 The Youghiogheny River Reservoir spans the Mason-Dixon Line between Pennsylvania and Maryland. The reservoir begins near Friendsville Maryland and extends to the dam in Confluence, Pennsylvania. The reservoir is approximately16 miles in length, covering 2800 acres. The maximum is depth 121 feet with an average depth of 54 feet.
The U.S. Geological Survey lists the official name of the impoundment as Youghiogheny River Lake. The impoundment is commonly known as "Youghiogheny Reservoir" or "Youghiogheny River Reservoir". The structure is owned and operated by United States Army Corps of Engineers (ACOE). Fish populations are managed by the Pennsylvania Fish and Boat Commission (PFBC).
The reservoir's geographical features include rocky shorelines, sunken trees and stumps, boat docks, shallow flats, and other structures. Water levels fluctuate seasonally, depending on annual rainfall and other factors. In the fall, water levels on the reservoir are typically low, which affects fishing considerably.
The Youghiogheny River Reservoir supports several recreational fisheries. Fishing for smallmouth bass is excellent throughout the impoundment. It is known for its walleye, which help sustain local fishing clubs, tournaments, and other fishing-related activities. The reservoir also produces black crappie, northern pike, yellow perch, common carp, bluegill sunfish, pumpkinseed sunfish, rock bass, brown bullhead, channel catfish, chain pickerel, hybrid striped bass, and other fish.
Related Information
Pennsylvania Freshwater Fishing