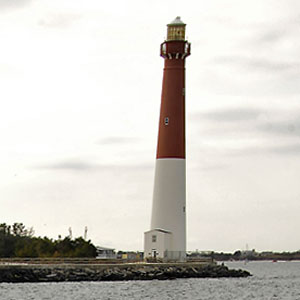 This page has information on New Jersey fishing charter boats and guides. Garden State captains and guides fish for fluke, winter flounder, black sea bass, striped bass, bluefish, weakfish, black drum, whiting, bonita, tuna, billfish, sharks, and other species.
In North Jersey, captains fish out of an array of harbors, making trips into Raritan Bay, Sandy Hook Bay, and into the open Atlantic.
Near Belmar, Tom's River Inlet provides access to the Atlantic. Captains departing from the Tom's River area provide inshore fishing, offshore fishing, and other opportunities.
The Long Beach area offers numerous fishing and boating opportunities. Passing by Barnegat Lighthouse, boats enter the Atlantic to fish for bluefish, striped bass, black sea bass, flounder, tuna, and other species.
At Atlantic City and Ocean City, charter boats have access to the Atlantic Ocean. Boats fishing from these areas go after fluke (summer flounder), black sea bass, bluefish, stripers, and other species.
In southern New Jersey, Cape May is one of the most popular ports for saltwater fishing trips. Cape May has access to the Atlantic as well as the Delaware Bay. In addition to the species mentioned above, anglers fishing from Cape May participate in the Delaware Bay's famous spring black drum fishery.
Related Information