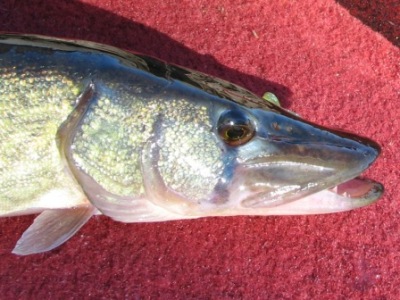 Although Delaware is the smallest of the Mid Atlantic states, anglers will find a wide range of freshwater fishing opportunities. Delaware freshwater fishing is done in ponds, rivers, creeks, and streams.
The state is known for its winter freshwater fishing, especially for chain pickerel and black crappie.
Delaware Rivers, Creeks, and Streams
The tidal portion of the Delaware River borders the state. Its upper reaches contain a variety of freshwater and anadromous species, while the lower Delaware is inhabited by saltwater fish species.
In northern New Castle County, White Clay Creek State Park offers a variety of freshwater fishing. Several small ponds within the park contain largemouth bass and bluegill sunfish. Rainbow and brown trout are stocked each spring in White Clay Creek, Christina Creek, Pike Creek, Beaver Run, Wilson Run, and Mill Creek.
Near Wilmington, the upper Brandywine Creek is a good spot for smallmouth bass, bluegill, and crappie.
In Kent County, the St. Jones River is a popular freshwater fishing destination. The river originates at the Silver Lake dam in Dover and flows approximately 13 miles before emptying into the Delaware Bay.
In southwestern Sussex County, the Nanticoke River watershed includes thousands of acres of fish habitat. The main river has largemouth bass, black crappie, sunfish, chain pickerel, yellow perch, and other species. Several branches of the river have been dammed, creating large mill ponds where fishing is available year round. In addition to its year-round species, the upper Nanticoke provides important spawning habitat for shad and river herring.
Public Access Lakes and Ponds
Located just North of the C and D Canal, Lums Pond has some of the best freshwater fishing in the state. In addition to largemouth bass, bluegill, crappie, catfish, and chain pickerel, striped bass are stocked in the impoundment.
Silver Lake in Dover is a popular fishing spot. The lake is populated by largemouth bass, carp, crappie, striped bass, white perch, bluegill, catfish, and species. A permit is required by the City of Dover Parks and Recreation Department in order to fish at the lake.
Near Dover in Kent County, Tidbury Pond is stocked with several species of fish. The pond is owned and managed by Kent County Parks and Recreation.
Killens Pond is located about 12 miles south of Dover in Killens Pond State Park. This man-made pond was created by damming the Murderkill River. The impoundment supports largemouth bass, catfish, carp, yellow perch, crappie, bluegills, and chain pickerel.
Trap Pond State Park in Sussex County has fishing for largemouth bass, pickerel, crappie, and bluegills. Originally created in the late 1700's by damming Saunders Branch and nearby creeks, the impoundment covers approximately 90 acres. Its cypress swamp is reported to contain the northernmost natural stand of bald cypress trees in the United States. Several small of its feeder creeks can be explored by kayak or canoe. The pond overflows into Broad Creek, which in turn drains into the Nanticoke River.
In Sussex County, Newton Pond is a restored 10 acre borrow pit where the public can enjoy freshwater fishing. The facility also has a fishing pier and fishing access along the shore. A boat launching area is available for kayaks, canoes, and other carry-on boats (no gasoline motors allowed). Newton Pond is owned and managed as a state wildlife area by Delaware's Division of Fish and Wildlife.
More Delaware public ponds:
Becks Pond (Newark)
Blairs Pond (Milford)
Chipman Pond (Laurel)
Concord Pond (Seaford)
Coursey Pond (Frederica)
Craigs Pond (Seaford)
Derby Pond (Woodside)
Garrisons Lake (Smyrna)
Griffiths Lake (Milford)
Haven Lake (Milford)
Hearns Pond (Seaford)
Horsey Pond (Laurel)
Ingrams Pond (Millsboro)
Massey's Mill Pond (Smyrna)
McColley Pond (Frederica)
McGinnis Pond (Canterbury)
Millsboro Pond (Millsboro)
Moores Lake (Dover)
Mud Mill Pond (Marydel)
Portsville Pond (Portsville)
Records Pond (Laurel)
Silver Lake (Milford)
Tubmill Pond (Milford)
Tussock Pond (Portsville)
Waples Pond (Milton)
Wagamons Pond (Milton)
Related Information