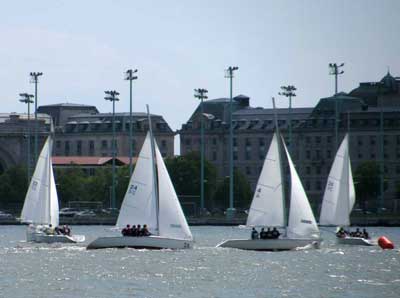 Annapolis, the capital of Maryland, is one of the state's best known port cities. The city is famous for its nautical history, seafood, sailboats, harbor, and access to the Chesapeake Bay.
Fishing
Annapolis offers a number of saltwater fishing opportunities. Fishing boats departing from Annapolis travel to the Chesapeake Bay Bridge, Sandy Point State Park, shipping channel, Thomas Point Shoal, Magothy River, Severn River, South River, and other fishing areas.
Public fishing access is available at Sandy Point State Park, Jonas Green Park, Downs Park, Thomas Point Park, and other locations.
Sailing
Annapolis has a long tradition as a sailing port. Often called "the sailing capital of the world," the city hosts scores of year-round and transient sailboaters. Annual sailboat and power boat shows in Annapolis attract audiences from around the world.
Kayaking
Kayaking is popular on waterways near Annapolis. Popular kayaking destinations near Annapolis include Sandy Point State Park, Whitehall Creek, Mill Creek, Severn River, South River, Annapolis Harbor, and Annapolis Roads.
Related Information