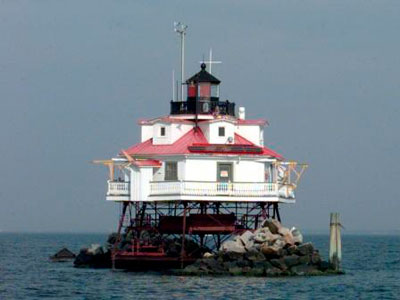 The South River originates in western Anne Arundel County, Maryland and flows approximately 10 miles before emptying into the Chesapeake Bay near Annapolis.
The river is fed by the non-tidal North River, Bacon Ridge Branch, and other tributaries. Most of the nontidal watershed consists of marshes, swamps, and small runs which lie north of Rt. 50.
From Rt. 50 to Riva Road, the South River is shallow. The river converges with Broad Creek just above the Riva Road Bridge. Navigational markers begin near the bridge and continue to the Bay.
The entrance to the South River is marked by one of the Chesapeake Bay's most iconic landmarks. Thomas Point Shoal Light is the last remaining screwpile cottage lighthouse that remains at its original position.
In Virginia, a tributary of the Shenandoah River is also known as the South River.
South River Fishing
Despite a high level of boat traffic, the tidal South River is a popular area for fishing. Some anglers prefer fishing in the morning, before much of the activity begins. In the lower river, anglers catch striped bass, white perch, Atlantic croaker, spot, and other species.
Related Information