Baltimore is Maryland's largest city. Baltimore is famous for its inner harbor, historical buildings, port, and industrial infrastructure.
The Patapsco River passes through the city before emptying into the Chesapeake Bay just east of the city.
Fishing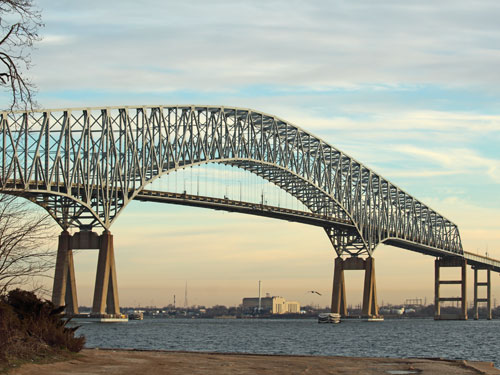 Boats departing from Baltimore fish for striped bass, white perch, croaker, spot, bluefish, flounder, and other saltwater species. Popular fishing spots include the Chesapeake Bay Bridge, shipping channel, and other areas.
Also located near the port of Baltimore are several artificial reef sites including Pooles Island, Tolchester, Gales Lumps, and Memorial Reef. Not far to the south is Love Point Reef. Several nearby reef sites contain shells, rubble, concrete igloos, and other materials.
For shore anglers, there are a number of fishing piers, public beaches, and other access points.
Related Information