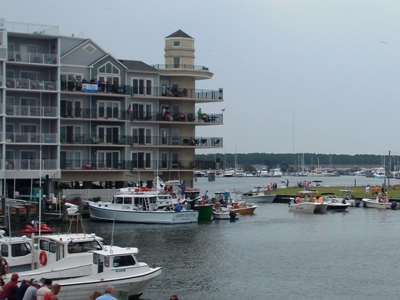 Crisfield Maryland is one of the best known Chesapeake Bay ports. Nearby, anglers fish for striped bass (rockfish), trout, flounder, croaker, spot and other local fish.
Access to the Chesapeake Bay is available near Crisfield from Somer's Cove Marina, Jane's Island State Park, and several smaller facilities.
Attractions
Crisfield is a popular destination for fishermen, campers, crabbers, vacationers, and outdoor enthusiasts.
The downtown area features museums, restaurants, shops, marina, tour boats, town dock, seafood processors, and fishing pier.
The town is a popular port of call for sailboaters and cruisers. Crisfield is also an important supply port for residents of Smith and Tangier Islands.
Saltwater Fishing
Crisfield is famous for its saltwater fishing. Although bottom fishing has declined somewhat from historical levels, fishing in Tangier Sound is still productive. During summer, fishermen catch croakers, spot, sea trout, flounder, bluefish, kingfish, sheepshead, cobia, drum, and other species.
The abundance of shallow water habitats for saltwater fishing are a major attraction for fishermen. The waterways around Crisfield include thousands of acres of shallows, aquatic grass beds, oyster bars, stump fields, creeks, coves, points, and other fishing areas.
During the spring and summer, many of these areas hold striped bass (rockfish), speckled trout, red drum, croakers, spot, and other fish species. Shallow water fishing peaks in the fall as runs of speckled trout pass through the area. During October, striped bass increase in both size and number.
By late October, striped bass begin moving out into Tangier and Pocomoke Sounds. As the weather turns colder, resident striped bass are joined by migrating fish that form large schools. Anglers fishing the late season encounter schools of breaking rockfish which are usually indicated by flocks of birds overhead.
In November and December, trophy class striped bass arrive in the lower Tangier Sound and the main channel of the Chesapeake Bay. Charter boats and private anglers departing from Crisfield sometimes fish for trophy striped bass until the season ends in December.
Crabbing
Recreational crabbing is popular around Crisfield. Along local shorelines, piers, docks, and bulkheads, crabbers use baited lines or traps. Recreational crabbing is also popular by boat, using trotlines or other gear.
Kayaking
The area around Crisfield is well suited for kayaking and canoeing. At Janes Island State Park, a series of marked trails lead thru canals, creeks, embayments, and flats where birds and other wildlife can be seen. Kayaks and canoes can be rented from the park, in season.
A number of other facilities near Crisfield are suitable for launching kayaks, including boat ramps at Somers Cove Marina, Marion, and Lawsonia. At Janes Island State Park, enthusiasts can bring their own craft, rent kayaks or canoes, or join guided tours.
Some of the area's best fishing spots are accessible only by paddlecraft. Kayak fishermen fish for speckled trout, striped bass, bluefish, red drum, white perch, spot, and other species.
Related Information