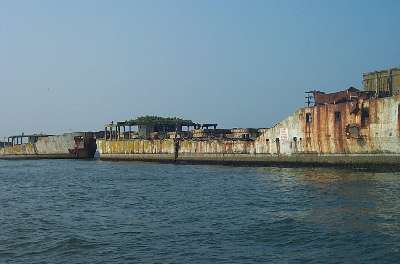 At Kiptopeake State Park on the Eastern Shore of Virginia, a line of sunken concrete liberty ships lie in shallow water a short distance off the beach.
In 1948, the formation of nine ships were scuttled in approximately 20 feet of water to form a ferry breakwater along Kiptopeke Beach. The opening of the Chesapeake Bay Bridge Tunnel made the Eastern Shore to Hampton Roads ferry route obsolete.
The concrete ships remained and have become a popular landmark. The deserted ships are home to a variety of birds and below the water, the hulls act as an artificial reef, attracting a variety of fish and other marine life.
Related Information
Shipwrecks and Obstructions (Mid Atlantic)
Artificial Reefs (Mid Atlantic)