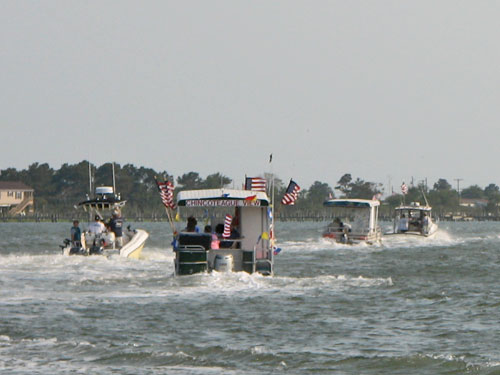 Chincoteague fishing opportunities cover a broad range of angling styles. Fishermen can try fishing the surf, piers, bridges, or fish from boats, kayaks, and other craft. Anglers bring their personal boat, or choose from rentals, flounder charters, or even charter a boat for a day of deep sea fishing.
Surf fishing can be done on nearby Assateague National Seashore, either on foot or with a vehicle. Fishing access from shore is also available at the Chincoteague Island Fishing Pier, Curtis Merritt Marina, Memorial Park, and other locations.
In the bays and nearshore areas, anglers can enjoy flounder fishing, or fish for inshore fish such as croaker, spot, kingfish, tautog, black sea bass, bluefish, striped bass, or black drum.
There are hundreds of spots to fish in the ocean off Chincoteague. Fishing varies seasonally and every year is different. Among the many species that may appear are Spanish and king mackerel, houndfish, triggerfish, cobia, amberjack, jack crevelle, rudderfish, blue runners, spadefish, tripletail, gray seatrout (weakfish), speckled trout, croakers, flounder, skipjack tuna, false albacore, Atlantic bonita, bluefish, bluefin tuna, yellowfin tuna, marlin, dolphin, sea bass, tautog, red hake, cod, pollock, bergals, stargazers, and others. Local sharks include sharpnose, blacktip, dusky, sandtiger, smoothdog, horndog, hammerhead, brown, blue, mako, tiger, and others.
Some of these fish come in to areas such as Blackfish Banks, Winter Quarter Shoal, and others. Occasionally, fish can be found at the 28 foot lump. This area is 12 miles east of Chincoteague. The bottom rises abruptly from 100 to 28 feet.
Schools of small herring or other baitfish are sometimes seen on the surface near the shoal, which attracts bluefish, king mackerel, Spanish mackerel, false albacore, and other species. Small spoons, feathers, and planer rigs can be productive when these species are present.
Just east is the sub wreck which often holds dolphin, skipjack tuna, black sea bass, triggerfish, and other species. Another overlooked area is a series of several small shoals just inshore of the Ammo Wreck, where tuna and king mackerel are sometimes found.
The Parking Lot is 25 miles off the beach. This area is a large hill just inside the 20 fathom line. Near the center of the Parking Lot is a large wreck. The sunken barge, known locally as the "big steel barge" rises 30 feet or more above the bottom.
A few miles south is the Little Hill, located just inside the 20 fathom line. The next popular spot to the south is the Lumpy Bottom. Other favorite spots include the little 20 fathom finger, 30 fathom hole, 30 fathom lumps, and Washington Canyon. Anglers also fish around weedlines, scallop boats, lobster pots, and tide rips.
Related Information