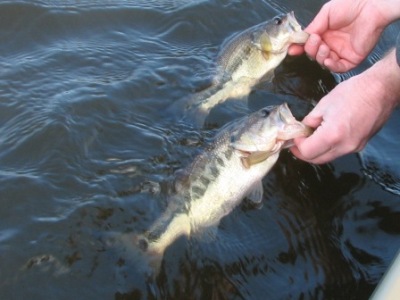 At approximately 50,000 acres, Buggs Island Lake is the largest lake in Virginia. Also known as John H. Kerr Reservoir, the waterway was originally built for flood control and hydroelectric power.
From its primary water source, the Roanoke River, the lake extends 39 miles to the John H. Kerr Dam. The impoundment also receives water from the Dan River and other tributaries. Below Kerr Dam are Lake Gaston, and Roanoke Rapids Lake.
Buggs Island Lake is a popular vacation destination for freshwater fishing, power boating, water skiing, sailing, kayaking, swimming, birdwatching, and other pastimes. A number of day-use areas, beaches, boat launching areas, fishing piers, and other facilities are located on or near the lake.
Buggs Island Lake supports populations of largemouth bass, black crappie, striped bass, white bass, blue catfish, walleye, freshwater drum, and other fish species. Buggs Island Lake has yielded a number of state record catches, including back to back Virginia state records for freshwater drum.
Due to its quality of fishing, the impoundment is a popular area for tournaments. To fish in the lake, anglers need either a Virginia or North Carolina fishing license.
The lake can be accessed from Clarksville Virginia. At the Clarksville town dock, complimentary day-use slips allow boaters to access the downtown area. Clarksville Marina has additional dockage and other services for fishermen. Boat rentals are available at the Clarksville Marina and at Occoneechee State Park.
Because of fishing lights on the local bridge, Clarksville experiences excellent nighttime fishing. The array of lighting includes rows of lights that are attached to bridge pylons, above the waterline as well as below. The lights attract baitfish, which, in turn attract gamefish.
Fish kills in the impoundment have been linked to largemouth bass virus (LMBV) by Virginia Department of Game and Inland Fisheries biologists.
Related Information