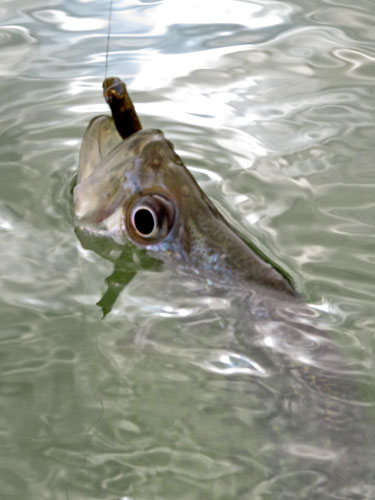 In the Commonwealth of Virginia, freshwater fishing takes on many forms. From its mountain lakes and trout streams, to the Great Dismal Swamp, the diversity of fishing habitats could never be explored in a single lifetime.
Among the state's most important areas for freshwater fishing are its major tidal rivers, including the Potomac, Rappahannock, York, and James Rivers.
Tidal river anglers catch largemouth bass, blue catfish, sunfish, striped bass, white perch, yellow perch, American shad, hickory shad, river herring, and other species.
Some of Virginia's best freshwater fishing opportunities can found along the Roanoke River and its impoundments. The upper Roanoke is impounded twice to form Smith Mountain Lake and Leesville Lake.
Near Clarksville, Buggs Island (Kerr) Lake contains largemouth bass, black crappie, striped bass, white bass, blue catfish, walleye, freshwater drum, and other species. Just downstream is Lake Gaston, which offers a wide range of fishing opportunities.
Near Virginia Beach, Back Bay National Wildlife Refuge contains both saltwater and freshwater fishing areas. The unique environment of Back Bay sustains a largemouth bass fishery, due in large part to its abundance of aquatic vegetation.
Also located near Virginia Beach is Lake Lawson and Lake Smith Natural Area. The 42-acre preserve contains more than 12,200 feet of shoreline. Anglers fishing Lake Lawson and Lake Smith catch largemouth bass, sunfish, and other freshwater species.
Located in the Great Dismal Swamp, Lake Drummond contains black crappie, chain pickerel, yellow perch, longnose gar, bowfin, and other species.
In Newport News, freshwater fishing opportunities exist at Lee Hall and Harwood's Mill Reservoirs.
Near Richmond, Lake Anna provides a variety of fishing opportunities.
Farther inland, Virginia freshwater rivers sustain a number of species. The South River is known for its fly fishing opportunities, especially near Waynesboro.
The Shenandoah River is considered to be among the best rivers in the east for smallmouth bass fishing. The Dan River is a popular destination for trout fishing, float trips, and striped bass runs.
Western Virginia is home to the New River, Claytor Lake, and other areas.
The Virginia Department of Wildlife Resources (DWR) manages freshwater fisheries in Virginia. DWR maintains fish stocking programs on several of the state's lakes, reservoirs, and other waterways.
Related Information