West Virginia is famous for its outstanding freshwater fishing opportunities. From the Ohio River to remote Appalachian trout streams, anglers fish for a variety of fish species.
On its northwestern border, the Ohio River separates West Virginia from Ohio. The river sustains a number of freshwater species including striped bass, hybrid striped bass, white bass, largemouth bass, musky, walleye, sauger, channel catfish, flathead catfish, sunfish, suckers, and others.
In the late 1700's Thomas Jefferson described the river in his Notes on the State of Virginia as: "The Ohio is the most beautiful river on earth. Its current gentle, waters clear, and bosom smooth and unbroken by rocks and rapids, a single instance only excepted". Unfortunately, decades of pollution have resulted in fish consumption advisories for many Ohio River fish.
Several of West Virginia's best known rivers rise from the Appalachian Mountains. In central West Virginia, the Kanawha River flows westward into the Ohio River.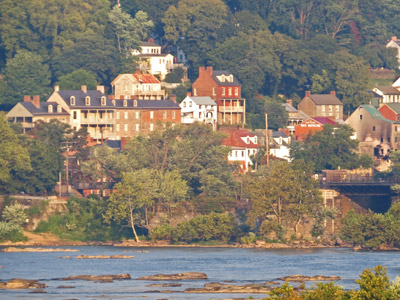 In northeastern West Virginia, the North Branch Potomac River forms the border with Maryland before merging with the Shenandoah River at Harpers Ferry.
The Monongahela River flows from the Appalachians northward towards Pennsylvania. Flowing from the eastern face of the mountain range is the Greenbrier River.
Related Information