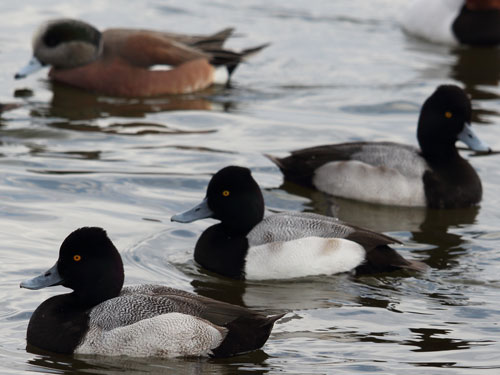 At approximately 42,000 acres, Lake Mattamuskeet is the largest natural freshwater lake in North Carolina. The lake has a maximum depth of 10 feet and an average depth of 2½ feet, making it an ideal area for wading or kayak fishing.
Largemouth bass are the most sought after game fish in the lake. During early spring, bass fishing can be productive near cypress trees and stumps, particularly along the northern and western shorelines. The lake also contains black crappie, bluegill, pumpkinseed, white perch, yellow perch, channel catfish, common carp, American eel, bowfin, longnose gar, and other species.
The lake is connected to Pamlico Sound via four major drainage canals. The canals, which are deeper than the lake, are popular for fishing and crabbing. In addition to freshwater species, the canals may contain blue crabs, flounder, mullet, and other estuarine species.
The federal government acquired the lake in 1934 and established Lake Mattamuskeet National Wildlife Refuge which covers the entire impoundment. Fishing in Lake Mattamuskeet is subject to federal control and closed to boat anglers during the waterfowl season (Nov. 1 until March 1).
Wildlife at Lake Mattamuskeet National Wildlife Refuge includes 240 resident and migratory birds, deer, bobcat, gray fox, black bear, and numerous species of snakes and turtles.
Related Information