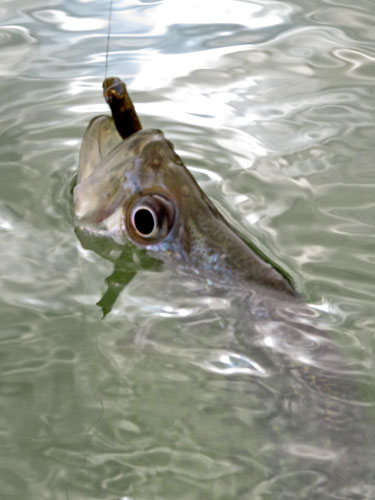 In North Carolina's freshwater habitats, anglers fish for largemouth bass, smallmouth bass, black crappie, white crappie, rock bass, Roanoke bass, bluegill, blue catfish, flathead catfish, channel catfish, landlocked striped bass, yellow perch, walleye, chain pickerel, rainbow trout, brown trout, brook trout, and other species.
North Carolina has a variety of freshwater fishing destinations including rivers, trout streams, creeks, lakes, ponds, and other areas.
The state's major rivers include the Roanoke, Neuse, and Cape Fear. North Carolina rivers sustain anadromous fish species including American shad, striped bass, river herring, and others.
A number of well known impoundments are found in North Carolina. Lake Gaston, Kerr Lake, and Lake Norman have gained national recognition for their trophy-class fisheries.
For largemouth bass enthusiasts, Lake Mattamuskeet, and other impoundments offer outstanding fishing.
For fly fishermen, areas such as the Great Smoky Mountain State Park offer trout fishing.
Related Information