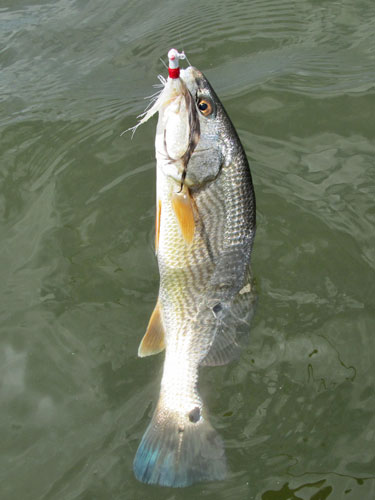 Shallow water trolling is one of several traditional fishing methods that are practiced in the Mid Atlantic region. Although shallow water trolling is done primarily in saltwater, many of the same techniques are also productive in freshwater lakes, rivers, and creeks.
Trolling can be effective whenever fish are present in shallow areas. In many areas, shallow water trolling begins in mid-spring and continues through fall. Trolling in shallow areas can be effective when targeting striped bass, speckled trout, seatrout, red drum, bluefish, flounder, and other species.
Although an endless number of lures are available for shallow water fishing, anglers often settle on a few traditional styles. Bucktail jigs, soft plastics, and combinations of the two are popular. Other lures used for shallow water trolling include swimming plugs, spoons, and inline spinners.
As with other fishing methods, it is extremely important to identify and target structure while trolling. Although some environments are nearly devoid of structure, most areas hold a variety of formations that can attract fish. Shallow water structure includes grass beds, oyster bars, sand bars, stump fields, points, sharp turns, tidal rips, creek mouths, and other formations.
Water conditions can have a tremendous impact on shallow water trolling. In most areas, water clarity can affect fishing. Clear water may require downsizing lines and lures, while dirty water may call for brighter colored lures. Floating debris can also affect trolling by fouling lures.
Weather can be a key factor for shallow water fishing. Some species have a tendency to feed aggressively during certain weather conditions, while refusing to bite during others.
An old fishing rule states: "Fishing is least when the wind is from the east." Wind and rain can have immediate impacts, as well as affecting water clarity for several days after an event.
In most shallow areas, tides are extremely important. Some conditions only exist when tides flow over a given area in a specific direction and speed. As the tide begins to fall, fish often begin congregating at the mouths of feeder creeks. As tides fall even lower, rips often form near shallow water structures such as sand bars, oyster beds, and points.
Near the end of the outgoing tide, fish often move into deep channels. As the tide turns and rises, the cycle completes, with fish moving up onto sand bars, grass beds, or other areas.
In many areas, seasonal runs of fish occur in shallow water. In areas such as the Chesapeake Bay, striped bass move down rivers each fall, passing through shallow areas on their way out into deeper water. During their fall migrations, striped bass feed aggressively in the shallows and can be targeted by trollers.
By late fall, shallow water fishing winds down in the Chesapeake Bay, forcing anglers to into deeper areas in order to catch fish.
Related Information